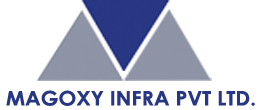 Welcome to Magoxy Infra Pvt Ltd.
Magoxy Infra Pvt. Ltd. is a Construction company based in Mumbai, India. The company was established in the year 1981 through its Industrial flooring business. The company was earlier registered as a Proprietary firm under the name Magoxy Floorings.
Post its inception as Magoxy Infra Pvt. Ltd., the company has diversified into other lines of business. The company is one of the leading Building & Road contracting firms having successfully carried out a number of projects across Mumbai and Thane. The company also has an equipment leasing division which leases out ...