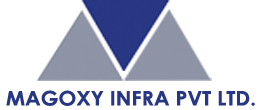 Heavy Industrial Flooring
Magoxy flooring is our patented product which has been tried and tested over the past 2 decades and has been extensively used in some of the biggest and well know companies across India. Magoxy Flooring is a Magnessium Oxychloride based flooring which gives a monolithic floor surface without joints. This floor is capable of bearing huge loads, is dust free, doesn't crack even under immense loads, does not spark on impact with objects and is fire resistant. Magoxy flooring is a one stop solution for companies facing difficulty with their existing flooring.

Clients :

M/s. Ordinance factory, Varangaon, Maharashtra

Reliance Industries Ltd, Patalganga

Telco Ltd, Pune

Godrej & Boyce Mfg. Co. Ltd. Mumbai

Mahindra & Mahindra ltd, Nasik

Crompton greaves ltd. Bombay & nasik

Hindustan Lever ltd., M.P.

MICO Nasik & banglore

Asian paints, Mumbai

Godfrey Philips india ltd, Mumbai